Fish grilling spatula – fish shaped fun
When it comes time to grill-up the days catch there can be nothing more fun than using the right fish spatula for the job. And the Charcoal Companion Angler Fish Grilling Spatula is as fun to use at the barbeque as it is to fish for the meal…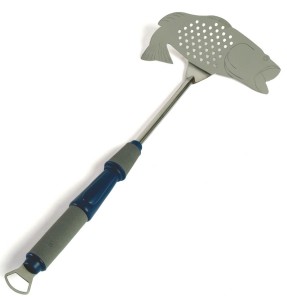 This angler spatula is a great grilling tool with its stainless steel head and soft-grip foam handles that are patterned after a fishing rod.
The fish spatula is a perfect gift for the angler in the family, or as a great conversation starter at a patio party. You will be amazed how heavy and sturdy it is, and yet the balance is great for working at the hot grill.
Fish spatula – fish head
The coolest part of this fish spatula is the fish shaped head or turning blade.  The broad steel head has perforations that allow for oils to drain through and is wide enough to handle a big fish. This is a long 22-inch spatula with a very soft and durable handle. At the end of the handle there is a strong loop for hanging this tool on the barbeque. Using a regular kitchen spatula on the grill is risky, but this tool will make your grilling experience safer from potential burns.
Fish spatula BBQ set
The Charcoal Companion fish spatula is one part of a larger grilling set. If you really want to impress your family and friends with your fish cooking skills, you should order the Charcoal Companion 3-Piece Angler Grill Barbecue Tool Set
. All of the grilling tools come with the same stainless steel workmanship and great fishing rod handles.
Once you use these fishing-themed tools you will really be hooked…