All-Clad makes a Gourmet Turner for your high-class kitchen
The All-Clad Stainless Large Slotted Turner is a spatula for the master chief that you know is within you. This stainless steel spatula with a slotted blade is distinctly-styled and is made of high quality 18/10 stainless with a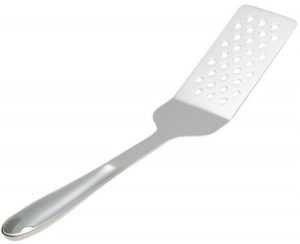 polished finish. The gourmet slotted turner will be a beautiful and useful addition to your kitchen tool collection. Like all the best spatulas, the All-Clad has a convenient hanging eyelet for storage on a hook or peg. This is a tool that deserves to be on display.
The handle is designed to provide a firm, secure grip and prevent fatigue with its sculpted thumb groove.  The flat and fully perforated blade helps drain grease when serving burgers or meats. This stainless spatula is perfect for grilling and use in large pans. A stainless slotted turner is a must have spatula when you want to move cook like a pro.
All-Clad quality stainless spatula designs
This is a company that produces some of the finest cookware in the nation and we are pleased to offer this stainless steel spatula for your use. All-Clad kitchen tools are featured in many high class and gourmet restaurants because of their superior performance and aesthetically designs. These unique spatulas are crafted by true American artists using the finest metals. The spatula's stunning design is developed to provide you with the best cooking experience possible. All-Clad believes in quality over convenience, so the stainless steel is formulated and bonded with professional cooking performance in mind.  Once you own an All-Clad spatula you will find yourself describing it as: Solid, sturdy, slick and shiney!
Heavy-duty spatula
When you are planning some serious frying, you can move and turn food without splashing a lot of oil with this slotted design. Removing oil  from your cooked food is very easy because the large holes drain grease well. This is best used with at least a 10″ skillet, otherwise you won't have enough room to work the food in the pan. The beefy all stainless construction is not only beautiful but it cleans up easily – just throw it in the dishwasher and your done.
When it is time to step up to the best in stainless steel spatulas, count on All-Clad's large slotted turner to meet every cooking need.