Offset spatula from Grill Friends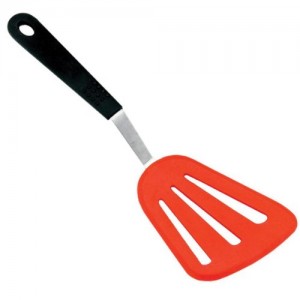 The Grill Friends Offset Spatula
will be the last spatula that you will ever need to buy, and it will be your best cooking friend for years to come. All great cooks know the value of an offset spatula for frying or grilling tasks.
Unique offset spatula
The unique triangular shape provides great leverage and flexibility in your pan or as you move various foods around the grill . The deep offset stainless steel neck and long handle allow you to slide the silicone spatula blade under food without any strain to your wrist. This offset spatula is ideal for burgers, fish or pancakes. The offset 2-inch neck provides that extra leverage that you need for flipping and lifting even heavy foods.
Silicone spatula blade
The Grill Friend's silicone offset spatula blade is perfect for indoor cooking or outdoor grilling and is safe for use on all surfaces, including very hot places. The silicone has beveled edges that easily slides under food.  The silicone spatula head is heat-resistant to 500 degrees Fahrenheit  and completely dishwasher safe. The overall length is approx. 13.5″ long, and the offset spatula head is 4.5″ wide.