Pancake flipper in the hands of a spatula speedster
Some would say that this is the the World's fastest pancake flipper. All we know is that this is one Speedy Spatula Man!
Pancake Flipper Questions
There is a bit of controversy over this pancake flipper video… It claims to be great spatula work from Japan, but most people think that this was actually pancake flipping in China or Taiwan. There are also some who believe that the speedy spatula work has been sped-up in the video tapping process. We can't say one way or the other, but it still is fun to see this offset spatula being put to such good work.
Offset Spatulas and Pancake Flipping
The offset handle spatula is perfect for working with the pancake turning process. The offset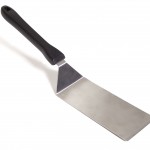 keeps the fingers away from the hot grill and allows for a easy angle to the cooking surface. You can find pancake flipping success with several sizes of offset spatulas. In this video the cook has chosen a very small stainless steel spatula blade to match the pancake size. Most people chose a blade that is a bit larger – We all love the big fluffy pancakes, don't we?
Offset Spatula Shopping
If you have your sights set on breaking the World Record for pancake flippers, then we would suggest that you spend some time shopping the offset spatula markets here in Spatula Mart… And practice the fine art of fast flipping – GOOD LUCK!