Pancake flipper without a spatula
Sometimes you don't need a spatula to flip a good pancake and the Ceramic Green Non-Stick Flip Jack may be the pancake flipper you want. This unique flipper system was first marketed on TV infomercials by Telebrands (you can see the original TV commercial below)
Pancake flipper pan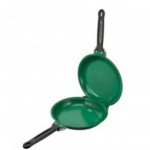 The batter is poured into a pan that is designed like a clam-shell with a hinge and handle. When the lid is closed the pancake flipper holds the batter inside even when it is turned over for heating the cake on both sides. The non-slip surface does not require a spatula for doing the flipping, even though a rubber of silicone spatula can be used if you desire.
Pancake batter spout

The perfect companion to this unique pancake flipper is this equally unique batter pouring pitcher. If you click on the picture of the pitcher you can order your own version of this great addition to pancake cooking success. The extra long spout gives you greater control of the batter placement with less spilling and clean-up. A well controlled batter is just as important as a good pancake flipper.
Original Pancake Flipper Video
Enjoy the sales pitch for the Flip Jack, as seen on TV:
Official Flip Jack As Seen On TV Pancake Flipper Commercial from Flip Jack Pan on Vimeo.