This is a cake lifter / pizza spatula / all in one kitchen tool…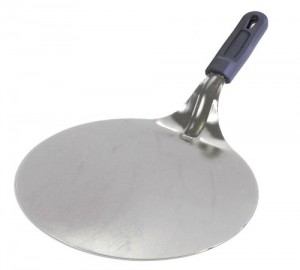 At Spatula Mart the spatula is king and this big spatula will soon become the "royal" pizza spatula in your kitchen. The cool thing about the Nordic Ware Cake Lifter is the non-stick surface of the blade makes transferring your cake or your pizza a real snap. Perfect for lifting cakes to a platter or use it as a pizza spatula for unloading the pie from the oven. The spatula design is large enough for most cakes. Proudly made in the USA by Nordic Ware.
Cake lifter
You will like this cake lifter spatula better than most because the Nordic will lift a larger cake and is very sturdy, yet it is thin enough to slip under a fragile cake without ruining it. Use a bit of spray on the blade to insure against any sticking.  With such a large blade some worry that it might be hard on the wrist, but this cake lifter will have no problem handling it and your wrist will not take a beating.
Pizza Spatula
The Nordic Ware lifter is excellent for placing both artisan bread and small pizza's on any pizza stone. Many even use this pizza spatula for cooking quesadillas or for flipping large flour tortillas. You will find many great uses for this cake lifter spatula.
As a pizza spatula, it is sturdy and easy to use. We suggest that you place some parchment paper on the lifter and then place your raw bread dough or pizza onto the lifter before sliding it into your pizza oven or onto the stone. Then when the dough is beginning to finish-off, use the Nordic lifter again as a pizza spatula to raise the bread or pizza for removal of the parchment paper. The remaining time in the oven will brown the bottom before you again use the lifter as a pizza spatula and lift it out for serving.
Two-in-one Kitchen Tool
It is always a great investment when you can make your spatula do many things. The Nordic Cake Lifter is one of these great kitchen tools, so use it as a pizza spatula as well. You deserve a great spatula in your kitchen kingdom!