Supper sized silicone fish spatula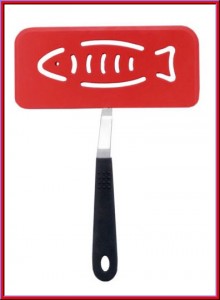 If you love grilling fish for family and friends, then this super sized silicone spatula is a perfect addition to your fish spatula tool kit.
The Elizabeth Karmel's Silicone Fish Spatula with Offset Handle has just taken all the guess work out of figuring which spatula to use when grilling or sautéing fish over the fire or in the pan. Just one look at the silicone blade with its carved fish screams – "I'm for flipping fish…
Fish Spatula Fun!
It is extra wide, and has a deep off-set neck that allows you to slide easily under the food and give it a flip. The fun Elizabeth Karmel's Silicone Fish Spatula is functional and fashionable! The unique fish looking spatula blade is formed in a  8 ½ x 3 ½ rectangular shape which provides the maximum leverage and flexibility for getting under whole fish and fish filets.  Stop digging under the food and having your tender fish fall apart. The unique shape and fish carving is a great conversation piece for indoor or outdoor cooking parties! Its made from highly heat-resistant silicone that allows the spatula to be used up to 500 degrees Fahrenheit and it is also dishwasher safe.
Versatile spatula
This is clearly designed to be a fish spatula, but it can also be pressed into service for turning large items on the griddle, such as quesadillas, burritos and enchiladas or filled omelets. Use it to flip or serve anything long and floppy. We have also heard that the Elizabeth Karmel's Fish Spatula has even been used for lifting a half of cake from one plate to another!  And one more use…  Use this fun fish spatula to hold your silicone ice trays while being filled with water. The wide silicone blade of the spatula makes it easy to set the trays into the freezer when they're full .
This and other great "fish-flippin" spatulas can be found here in the Fish Spatula page here at Spatula Mart.