Tovolo shares a heart-shaped spatula for the day of lovers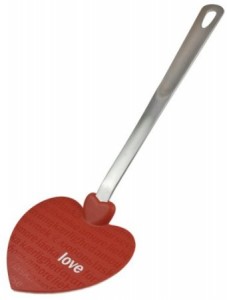 This Heart-shaped spatula brings a touch of romantic whimsy to any kitchen, especially for Valentines Day. Plan a special meal this holiday and use the Tovolo Spatulart Flexible Heart-Shaped Spatula to add just one more layer to the love.
Shop the Kitchen & Dining Valentine's Day gift idea post here in Spatula Mart to find products that will help you prepare, cook, bake and dine at home with your sweetheart.
Love Silicone Spatulas?
The flexible blade made from silicone with nylon transitions will slide easily under food and will not scratch nonstick cookware and is heat-resistant to 400 degrees F. The brushed stainless-steel handle with a loop for hanging on a storage pin. The heart spatula is dishwasher-safe and measures about 11-3/4 by 4-1/2 by 1 inches
Kitchen tools for Valentines
There are many Heart-shaped kitchen tools that would add some extra love for this Valentines time. Take a bit of love into the kitchen this year and find ways to cook up some extra treats that will make the day even more special.