OXO Good Grips spatula adds color to your kitchen counter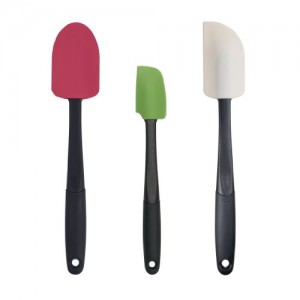 OXO spatula set
The OXO Good Grips 3-Piece Silicone Spatula Set provides you with one Raspberry Spoon Spatula, one Bright White Standard Silicone Spatula and one Green Small Spatula. Each of these mixing spatulas are ergonomically designed to fit the palm comfortably so that the pressure-absorbing soft grip handle will put less tension on your hands. The little green spatula is great for smaller containers like yogurt containers, measuring cups and the food processor. The red one has a symmetrical shape that is perfect for stirring foods on the cook top. The white spatula has a stiffer head than the others so it is nice for baking and scraping out the sides of the mixing bowl.
OXO Good Grips
The OXO Good Grips design provides outstanding grip and is perfect for mixing in nonstick cookware.  The silicone spatula heads are heat-resistant up to 600 degrees and can go into the dishwasher without worry. The size of the spoon spatula head makes this kitchen tool great for stirring and scraping. The extra bonus of any great mixing spatula is the opportunity for tasting your mixture. A silicone spatula head will not discolor, melt, or warp, and will stay flexible for a very long time. Each of the spatulas in the set include an oversize hole in the handle for easy hanging in a colorful display.
Silicone spatula set
You can choose to purchase your spatulas individually, but buying a set of silicone spatulas will save you both time and money. You will love this group of spatulas and will use them for all kinds of cooking situations, from meatloaf, cake batter, pancakes, to dough recipes of all kinds. They work well and they fit into your hand like they were made for it, without slipping, even when your hands are wet. You deserve to use and display this colorful set of silicone spatulas.