Spatula City from Weird Al's Imagination
The creative brain of "Weird Al" Yankovic produced some very funny stuff through the years. In the late 80's he collaborated on a film called UHV. In the film there was a fictional place of business that was called Spatula City. It was a mega-store for nothing but spatulas and it was imaginary.

Spatula City Inspired Spatula Mart
In the film Spatula City was open till Midnight and sold a very broad selection of spatulas to the public.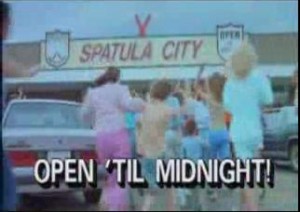 Spatula Mart is always open and available on the internet for finding just the right spatula for any occasion. There are markets that display a variety of spatulas, with inventory growing daily.
There are no crowds to fight like in Spatula City and you don't have to worry about parking.
The mobs of shoppers from a Spatula City sale have been replaced with the confidence of safe online eCommerce systems from Amazon.
Spatula City Tribute
Spatula Mart is a living tribute to the idea that Spatula City created in the minds of movie goers. A one-stop shopping experience for spatulas. It has now become the largest flippin, mixin, market on the web.  Thanks for the inspiration… We will take it from here!