They say that these spatulas are "icing on the cake"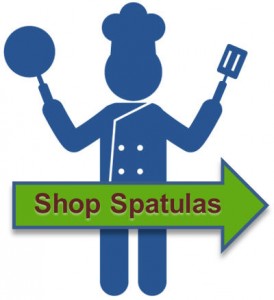 If you like to bake cakes or cupcakes you should include a good icing spatula to your kitchen tools. Icing spatulas are comprised of metal blades with rounded tips that are attached to a plastic or wood handle. These spatulas have blades that are available in a variety of sizes from about 5-inches to over 14-inches.
Straight or offset spatulas
The icing tool can sport a straight blade or they can be an offset spatula design.  Ether straight or offset, each type works better for different applications and feels different in your hand.  The best way to determine the correct tool is by trying different spatulas to decide which works best for you. For larger cakes most like a large offset blade for frosting the tops of large tiers. The offset will also keep your fingers away from the icing, especially when working on these larger cakes. Many choose a straight blade for working on the sides of the cake or for smaller surface treatments.
Spatula flexibility
The icing spatula's stainless steel blade can come with varying stiffness or flexibilities. The longer the blade or the thickness of the steel will determine flex. Short blade spatulas provide better flex for putting a fun finish on a cupcake top or on the side of a sheet cake.
We all have different hand sizes, wrist flexibility or body height, so how we approach the cake differently.  In addition there are many frosting surfaces and finishes that will require different spatula techniques; all may require a different spatula for the job. Because of this, Spatula Mart stocks many varieties of icing spatulas with many flexibilities. We encourage you to try different icing spatulas to see which gives you the best results.  A very flexible 8-inch blade is usually a great place to start, and then expand from there.
Better spatula – better baker
The professional knows that great kitchen tools make all the difference in the outcome of the cake. You deserve to find and use an icing spatula that will create cakes and cupcakes that will be the envy of all who witness your work.  Maybe your new spatula will really become the "icing on the cake" in your kitchen as well…