The offset in the handle is the magic of this spatula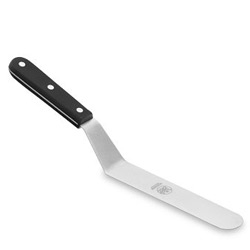 Many kitchen tools are designed around the human anatomy. A long time ago spatula designers looked at human fingers and created the offset spatula.
The offset spatulas bend
As can be seen in the example to the left, an offset spatula has a bend that changes direction upward in the neck of the blade. This bend provides clearance for the fingers and knuckles of your hand as you are using your spatula. The clearance needed between hand and working surface is the reason for the offset. And because each of these bent spatulas is shaped for various uses, they may require a variety of bend lengths. You can purchase an offset spatula with a minimal bend or with a bend as much as 2-inches.
Offset spatula variety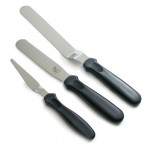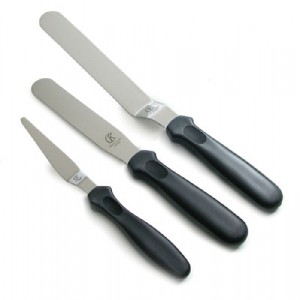 The greatest variety in offset spatula design comes from the baking industry. There are a multitude of icing spatulas that have the offset. The metal offset can be produced with a stiff or flexible action, depending upon the intended use. The blade length also varies in order to meet the needs of the icing project. Obviously a wedding cake and a cup cake will need a different offset spatula to produce a successful result.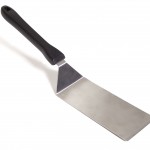 You will also find an offset in the spatulas used for flipping burgers on a grill. The offset handle from the turning blade is critical to keeping your fingers from getting to close to the hot grilling surfaces. This metal offset spatulas come in various blade widths and lengths depending upon your turning needs. A good restaurant quality offset allows a clearance of at least 1.5 inches. These grilling style spatulas can be ordered with wood, stainless or plastic handles.
The barbeque is another place that you will find the offset in a spatula, only the BBQ spatula usually includes a longer handle as well. Keeping the fingers away from the flames and hot lip of the grill is the goal of the offset.
We recommend that you explore the many options of the offset spatula and keep your fingers and knuckles out of the way when you cook.